SNES was the second home console released by Nintendo. It was a 16-bit console with advanced capabilities compared to the former: it had stereo sound, 512 simultaneous colors, improved graphics and an optional chip on some games for 3D rendering (like Star Fox).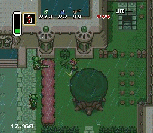 Super Mario World, Yoshi's Island, The Legend of Zelda: A Link to the Past, Donkey Kong Country 1, 2 and 3, Battletoads in Battlemaniacs, Killer Instinct, Star Fox, Contra 3, Super Adventure Island, Pilotwings, Earthworm Jim, Fifa 98 among others.
Ad blocker interference detected!
Wikia is a free-to-use site that makes money from advertising. We have a modified experience for viewers using ad blockers

Wikia is not accessible if you've made further modifications. Remove the custom ad blocker rule(s) and the page will load as expected.