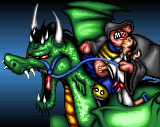 Michiko Tashoku is the daughter of Yuriko Tashoku, the CEO of the Psicone Corporation. Given her name and appearance, she and her mother are presumably of Japanese heritage.
Michiko's first and only appearance in the series is in Battletoads in Battlemaniacs, when she is kidnapped by Psyko Pigs and taken into the Gamescape. She is presumed to have been rescued at the end of the game, though no mention is made of it.
Ad blocker interference detected!
Wikia is a free-to-use site that makes money from advertising. We have a modified experience for viewers using ad blockers

Wikia is not accessible if you've made further modifications. Remove the custom ad blocker rule(s) and the page will load as expected.